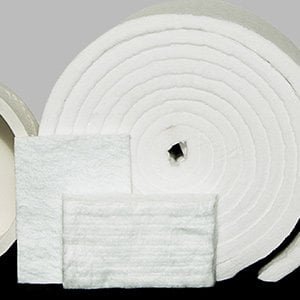 Our range of fiber mats is made from high temperature resistant ceramic or biosoluble fibers and provides an efficient solution to thermal challenges. Like all fiber products, mats are available from both ceramic and biosoluble fibers for temperatures up to 1600C.
Upon request, mats can also be specially cut / punched to obtain the desired shape.
The mats are available in various densities (such as 64kg / m3, 96kg / m3, 128kg / m3 and 160kg / m3) and thicknesses (6mm, 13mm, 19mm, 25mm, 38mm and 50mm) and up to 1600 ° C.
A wide range of common mat dimensions and qualities is always in stock.
Areas of application are:
High temperature insulation of kilns
Boiler insulation
High-temperature seals
Isolation of pipelines
Inquiry
ATTENTION - Sale to professionals only